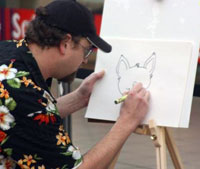 Kieron Pratt is as colourful as his illustrations. He has a great sense of humour and is a 'behind the scenes' kind of person who would prefer to have his illustrations speak for him.
Kieron was born in Melbourne and moved to Canberra in 1980 with his family and has been there ever since. He has always loved drawing since he was old enough to "eat his first red crayon".
Kieron was inspired in his drawing by Looney Toons cartoons and by his parents who always encouraged him.
He is enjoying illustrating the Poppy books and hopes you enjoy reading them.